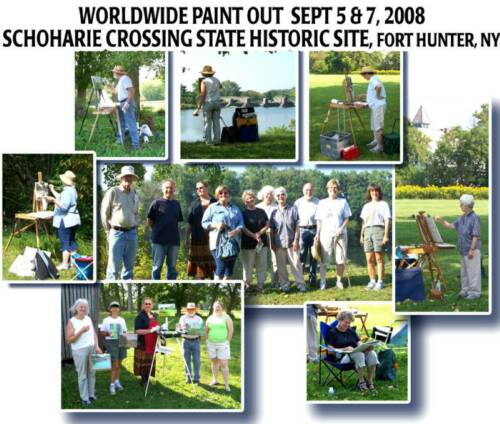 Our paint out event on Friday and the Sunday rain date was a great success.  There were 13 artists painting at the various sites of the Schoharie Crossing State Historic Site in Fort Hunter and also at the Shrine of Our Lady of Martyrs in Auriesville, NY. The weather was definitely different each day - we had extreme heat and humidity on Friday, rain all day Saturday, and cool and windy on Sunday.  Sunday's wind was gale force for most of the morning, but we were still able to complete paintings.

The artists were from different art groups and this made for a nice day of meeting artists, talking about art and of course lots of painting.  The paint out was scheduled to run from 9am to 3pm, but several of the artists stayed until after 6pm both days.  Everyone loved the idea of a Worldwide paint out.

All my best,

Marilyn Fairman


International Plein Air Painters Worldwide organization

Great Worldwide Paint Out

Est. 10/19/01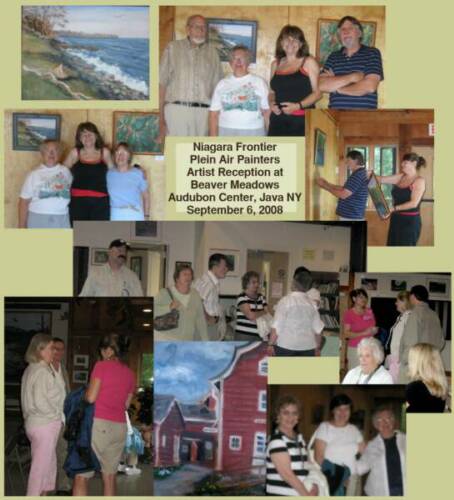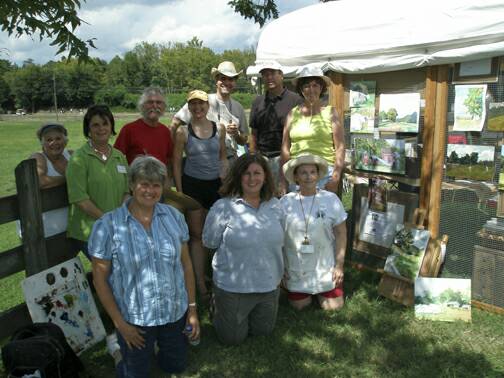 Art Alliance of North Georgia

and

Southern Plein Air Painters

Tunnel Hill, GA, at the annual "Battle of Tunnel Hill" Civil War reenactment.

Sponsored by the Art Alliance of North Georgia and Southern Plein Air Painters.

---11 artists participated, 1 isn't in the photo---He was out painting!!!

Thanks for the opportunity to take part in this event.  The artists are already making

plans for next years event.

BJ Wright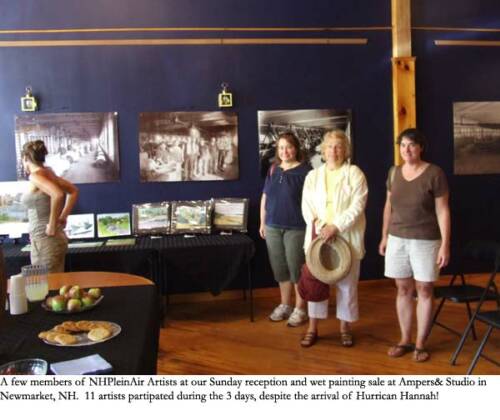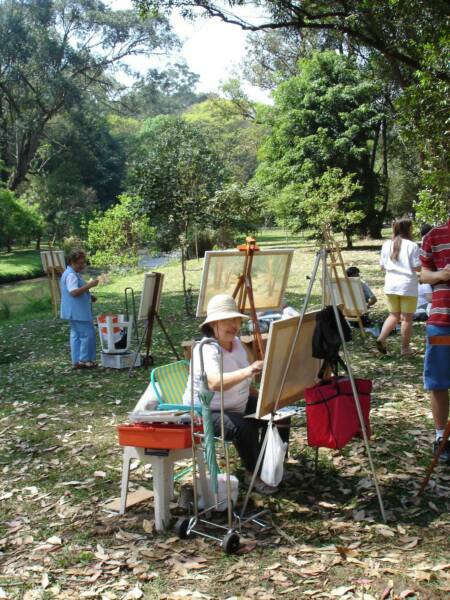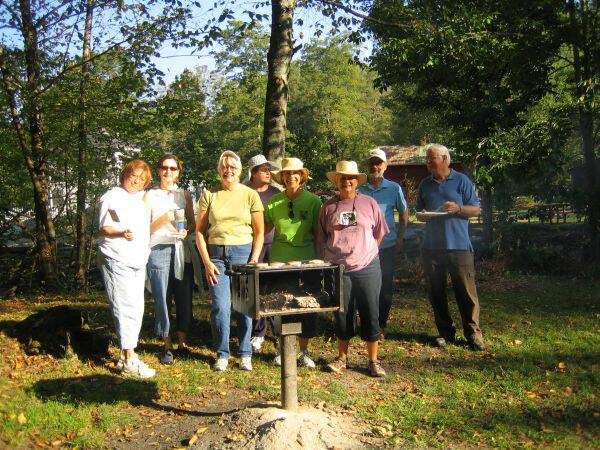 Pennsylvania en Plein Air Society

Pennsylvania En Plein Air Society had a great day for painting. We started by fueling up on pancakes cooked over an open fire at Salt Springs State Park...then got out our easels and went to work. We had 11 participants and a few onlookers and a runaway llama.

What a very, very good day. Everyone wants it to be an annual event...with pancakes!

We should pick up a little post event publicity which I will pass along.

Rodrica Tilley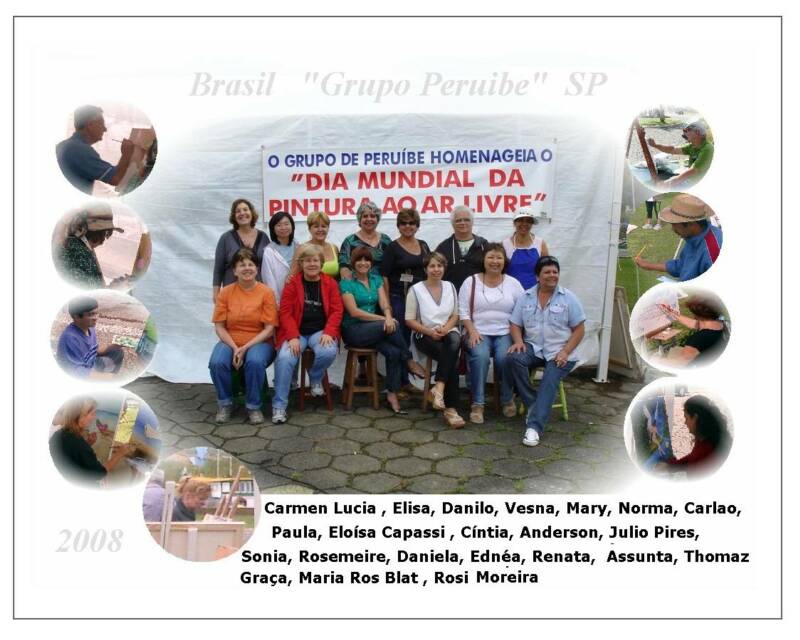 Brasil

Grupo

Peruibe

official image of the Group of Peruíbe, that participated of the International Plein Air Panters, in 07/09/2008 in the Port of the Fishing in Peruíbe-SP - Brazil, For better evaluation leaves one here link for blog that I made, where has some photos of the event.

Our meeting was a Success! … E counted on the participation of 22 Plastic artists and local authorities, had the support of the City hall of Peruíbe, with all infrastructure for the great day.

Yours truly,

Elisabete B. de Paula

Grupo Peruibe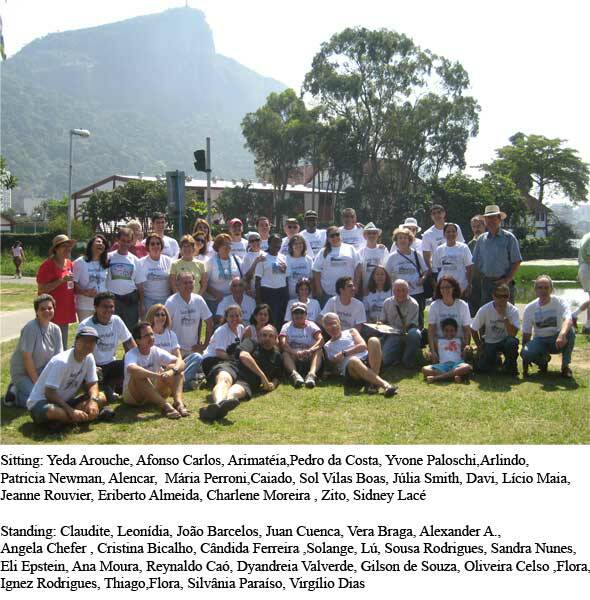 Rio de Janiero

more photos on

You can´t imagine how wonderful  it was this year here! I decided to do it different and tried to gather all art groups and individual artists from  Rio and other cities. Besides, after broadcasting in an art community other states registered as you know.The response was great.Well, I´ve just finished uploading some photos in my blog and I also wrote a journal about the event.

Here in NH we 11 members participate in the

World Wide Paint Out over the 3 days, but the

areas where we painted - and hurricane Hannah! -

made it difficult to get a group together for a group photo. 

Even at our reception on Sunday, there was no time when everyone present on Sunday was in the room at the same time!

A total of 19 paintings were produced over the 3 days and 4 of them sold at the reception.  The rest remain on display (and available for sale) through the Newmarket Heritage Festival this weekend.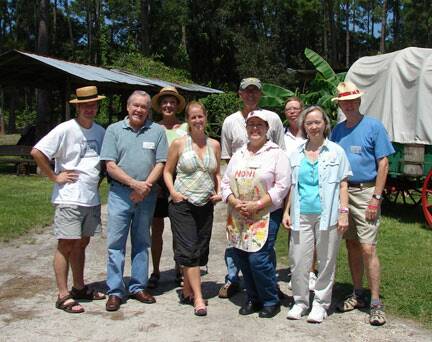 2008 WW Paint Out-

Pioneer Settlement for the Creative Arts 

East Coast Plein Air

Plein Air Painters of St. Augustine

Front Row  L to R

Christophe Cardot, Charles Shaefer, Lyn Asselta, Barbara Perrott and  Jessie Cook

Back Row  L to R

Karen Ann Patton, Scott Hiestand, Kathy Pounds and Robert Rohrich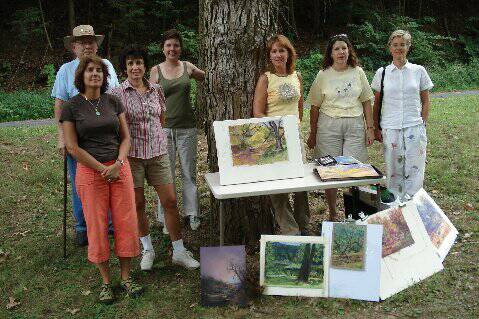 The Central PA Pastel Societies

International Plein Air Painters 6th WORLDWIDE Artist Paint Out,

was held locally at

Fishermen's Paradise in Bellefonte on September 5,6,7.

Friday's CPPS's Paint Out  began at 9 AM. Artists attending left to right, Tom Nicholas, Michelle Randall, Teresa Spitler, Jennifer Shuey, Susan Nicholas Gephart, Anne Kenyon, & Simonne Roy. We broke for lunch and looked at our morning progress. That afternoon we created more wonderful pastels and painted till 4:30!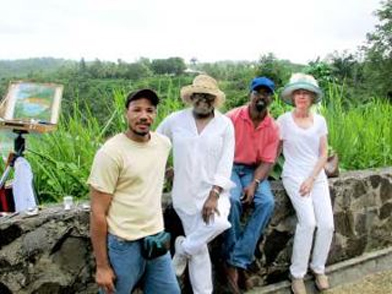 St. Lucia, West Indies

Lucian Plein Air

Here are photos from St. Lucia. We painted a land formation called Anse Feré. It was used in a scene in the movie "Creature" that was filmed in St. Lucia. We were rained out at noon. You can see the clouds.

Regards,

Alcina Nolley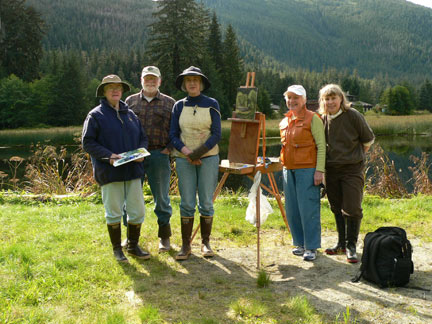 ALASKA

Fresh Air in Petersburg, Alaska.  We even had sunshine (a rarity around here this year) and a black bear join our

Paint Out. 

Thanks for your support.

Don Cornelius

Members of Fresh Air at Blind Slough, near Petersburg, Alaska, 9-6-08

L to R:  Carol Beckett, Don Cornelius, Sandy Wolf, Sally Riemer and

Karen Cornelius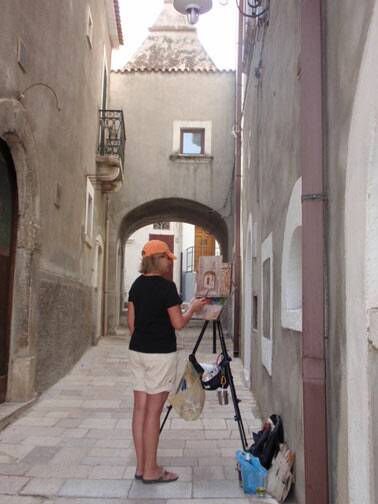 ITALY

Lori Putnam

I am the only plein air painter in the little town of Peschici, 

Italy. (Va bene.) It is a gorgeous place and the World Wide Paint Out 

helped to introduce me to the community here. Several locals and 

tourists stopped by to watch. I met people from Brussels, London, 

southern France, Holland, and, of course, Italy.

The annual Great WORLDWIDE Paint Out sponsored by International Plein Air Painters established in 2002.

Plein air painting Hudson Valley NY,Trinidad & Tobago, Quandra Island BC Canada,Pennsylvania,Rio de Janiero, Italy,Alaska,

St. Lucia,Florida,New Hampshire,Georgia,Niagara Frontier artists took part in this event.

Niagara Frontier

Plein Air Painters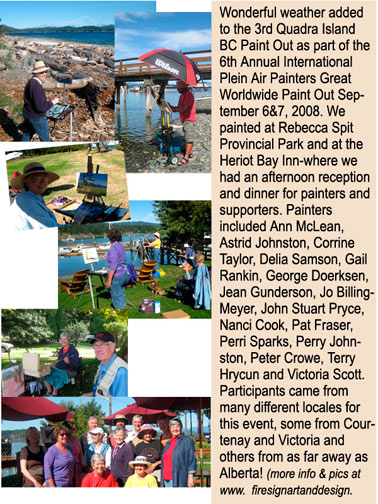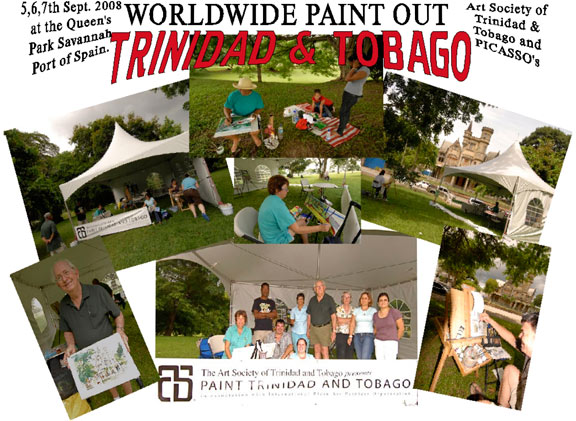 We had a great three days painting on the Queen's Park Savannah. 

On the 5th, we set up in front of the Boissiere House, otherwise known as the Gingerbread House, and on Saturday 6 and Sunday 7th we set up a Tent, and got signage (which we will use annually) to establish ourselves in front of the Stollmeyer's Castle. 

The Art Society of Trinidad & Tobago along with the PICASSO's got together for this event.

We all look forward to next year.

Happy Painting,

Beverley Fitzwilliam Harries


A WORLDWIDE Plein Air Painting Organization

São Paulo - Ibirapuera

Cintia Midori

Shiratori Habe

Anderson Kiyoshi Habe

Claudio Saes

Elisabete Jorge Pessine

Margarita B. Carmona

Mary L. S. Yamanaka

Clélia Festino Oricchio

José Marcos Oliva

Vesna Roman

Maricy Elisabeth Montenegro